Posted by
figleaf
on Fri, 2008-01-11 11:48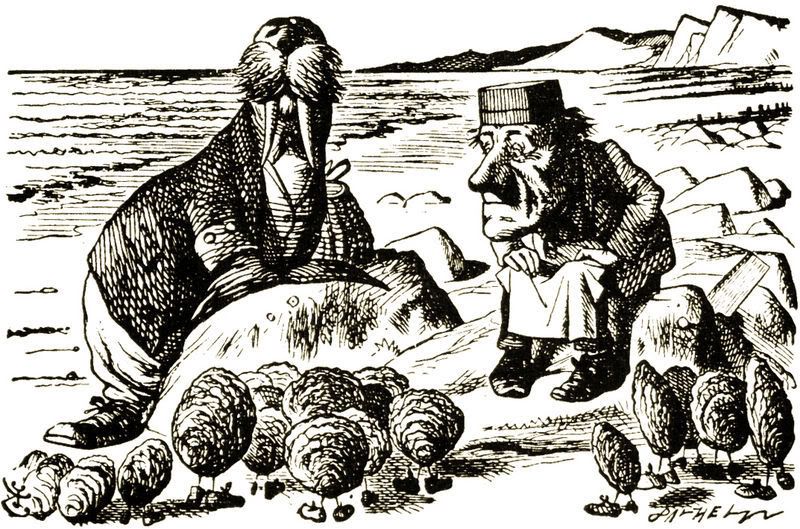 Photo by Photobucket user Wolf2Roger. Copyright Photobucket.com
The sea was wet as wet could be,
The sands were dry as dry.
You could not see a cloud, because
No cloud was in the sky:
No birds were flying overhead —
There were no birds to fly.
The Walrus and the Carpenter
Were walking close at hand;
They wept like anything to see
Such quantities of sand:
'If this were only cleared away,'
They said, 'it would be grand!'
'If seven maids with seven mops
Swept it for half a year,
Do you suppose,' the Walrus said,
'That they could get it clear?'
'I doubt it,' said the Carpenter,
And shed a bitter tear.
from Lewis Carrol's The Walrus and the Carpenter
Samara Ginsberg of The F-Word Blog reviews the Seduced exhibition of sexuality in ancient and modern art at the Barbican museum.
By far the most interesting installation from a feminist point of view was Requiem – k r buxey's answer to Andy Warhol's Blowjob (a 35-minute film of a man's face as he receives oral sex). Buxey films herself receiving oral sex from an unseen partner to the soundtrack of Fauré's Requiem. The idea behind this is a subversion of mainstream porn, in which female orgasm is either fake or irrelevant.

I see it as an irrelevance whether or not buxey is "conventionally attractive" (she's not). But what is very relevant is that she has made no effort with her appearance. She wears no make up. Her hair looks truly abominable. And she is totally unselfconscious. She does not look at the camera, she does not pout or lick her lips. She pulls really weird faces. Sometimes she almost looks as if she's in pain. In fact, at one point I started thinking that if I didn't know any better I might guess that she was giving birth.

That for me is the difference between sex-based art and porn. Porn exists to get the (usually male) viewer off. Art depicting sexuality has no such purpose – sex is just a subject matter. If it gets you off, good for you, but that's not what it's there for. In theory Requiem is an incredibly interesting idea, but the reality was really rather dull to watch. Afer I got over the initial, "Oh my God, she's actually filming herself getting head", I just wasn't interested any more. It wasn't the slightest bit titillating, and the heterosexual male friend I was with said exactly the same. And the fact that watching someone having an orgasm can be so dull when it's real and not intended as a show is fascinating in itself.
Before I say a ton of positive things about Ginsberg's response to k d buxey's content can I just quickly say WTF to her contention that buxey's not "conventionally attractive?" If you can handle modestly not-work-safe pages you can judge for yourself here (she's most visible in the lower-right video) or here or, grouped together with Alan Rickman, and other notable Londoners, here (again bottom row, second from the right.) Point being that I think women are taught to hold other women to standards far, far higher than men do. And also note that while she says buxey's appearance is an "irrelevance" to her, Ginsberg's "making no effort…" packs quite a bit of judgment. But while I have a serious quibble about that, it's still just a quibble. (Another quibble: Face-only orgasm porn isn't that uncommon, see for instance the fairly long-running Beautiful Agony that's dedicated to nothing else.)
But ignoring my ignorable petty quibbles, Ginsberg's got some great points, the biggest one being that we don't look like movie stars when we have sex! We often don't make eye contact. We almost never look demure or rugged or coy or… mostly any of the ways sexy people look in glossy advertising and other forms of porn. Yeah, we often don't notice because even when during sex with the lights on (still not all that common) we're often glasses off, or too close to each other's faces to focus, or too busy kissing, or at odd perspectives when sucking or licking our partners (and they're necessarily at least partly obscured when they're mouthing us), or depending on position we might not see their faces at all. And even when we could focus clearly on our partner's faces we're generally pretty caught up in our own erotic reality with it's own delightful perceptual distortions.
Which means that, unless we videotape ourselves or our partners, or accidentally catch our own eyes in a mirror, we rarely have any idea how we, let alone others, really look when we're really approaching our climaxes.
As Ginsberg says "Sometimes she almost looks as if she's in pain. In fact, at one point I started thinking that if I didn't know any better I might guess that she was giving birth." Which requires a little additional unpacking. First, because without knocking her at all, to say "if I didn't know better" is an accurate statement for almost all of us: we literally don't know better. First because, of course, we really don't see that many people giving birth, but second because we really don't see that many people having orgasms either. We do look more like we're in pain than not, though, and for that matter, during the early stages, when our focus is shifting from neurons at the top of the spine to those towards the bottom, our expressions more closely resemble anxiety, fear, or deep distraction.
Which all boils down to we're not particularly pretty when we're authentically aroused, and we certainly don't look like properly appointed members of the gentility… [Aside: in this respect, at least, we do resemble people giving birth: just as there's no way… or reason… to maintain one's carefully composed, um, composure while pushing a baby, neither can one, nor does one need to, maintain composure during sex. But I digress… —fl]
As I was saying, we may not seem terribly genteel when we're rocking our own or each other's worlds, and we may not look conventionally "pretty" when we're there, but oh my are we awesomely, amazingly, immediacy-of-nature beautiful.
Finally, it's worth noticing that, as opposed to contrived conventions of what we're taught arousal ought to look like, unless we ourselves are aroused or prepared to be, real arousal can draw our attention, yes, but without arousing us.
All cool insights that a) make me think that porn would be improved by Hollywood and b) make me wish for ways we could all become less self-conscious of our own arousal in the face of c) so many photogenic, perhaps, but therefore idealized sources.
Tags: